Direct import from PubMed
Note that it is faster to import info directly from PubMed to avoid typing names, title, page numbers, etc. ("Importer fra on-line kilde" - "Import from PubMed.org").
Automatic message when publications are ready to be imported
You can set up PURE to continuously search PubMed and ArXiv for your publications and send you a message when new publications are ready to be imported.
How to do it:
Log on to PURE
Remain in "Personal overview"
Select 'Edit profile' and then 'Setup scan for publications in online sources'
Select source (currently PubMed or ArXiv)
Enter the names that are to be searched for and save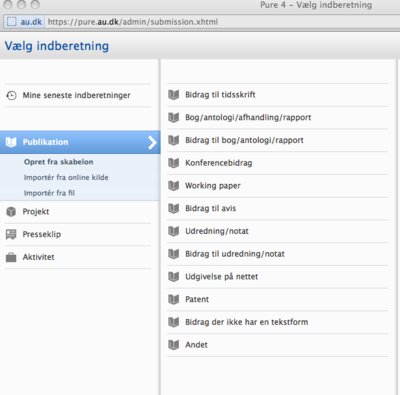 What to do if the publication cannot be imported directly from PubMed
For a publication to give points you must:
choose the authors from the database (all local people should be registered here- if not contact Rikke Mie Rahbek eller Birgitte Larsen).
choose the journal from the central database (if it is here) via Search – not the local database and not "create new" (only journals from the central database give points).
Note that when selecting journals you might have to scroll down or go to the next screen by pressing the little the arrow to get to the correct publication. See the red arrow in image below.
Example of error: a researcher could not find the journal Biochemistry in the first screen and had missed that you could scroll down or go to the next screen to find the journal in the central database, and therefore he made a mistake by choosing "create new ".