In order to improve the success rate of MBG grant applications, the Management Team has decided that applications for specific instruments (see list above) should undergo internal review by the MBG Research Committee before submission.
This means that at least two weeks prior to the submission deadline, you should send your application to Anne Færch Nielsen (afn@mbg.au.dk), who will forward your application to one or more committee members for review. You will then receive feedback on your application within a week. A list of internal deadlines for relevant grant applications can be found above.
MBG Aarhus: In addition, all applications above DKK 50,000 should be registered in ReAp before approval/budget signature in order to facilitate the necessary management of budgets including the coverage of fixed costs.
The procedure requires one single registration in ReAp as the following up-dates are taken care of by your project finance administrator (see flowchart below).
Please see how to register in ReAp.
---
The following flowchart describes the complete procedure when writing and registering an application. Please notice that the internal review of applications applies to all MBG employees.
Parties involved (the person responsible for action is marked in bold):
PI (principal investigator/applicant)
SC (Scientific coordinator)
HD (Head of Department)
PFA (Project Finance Administrator)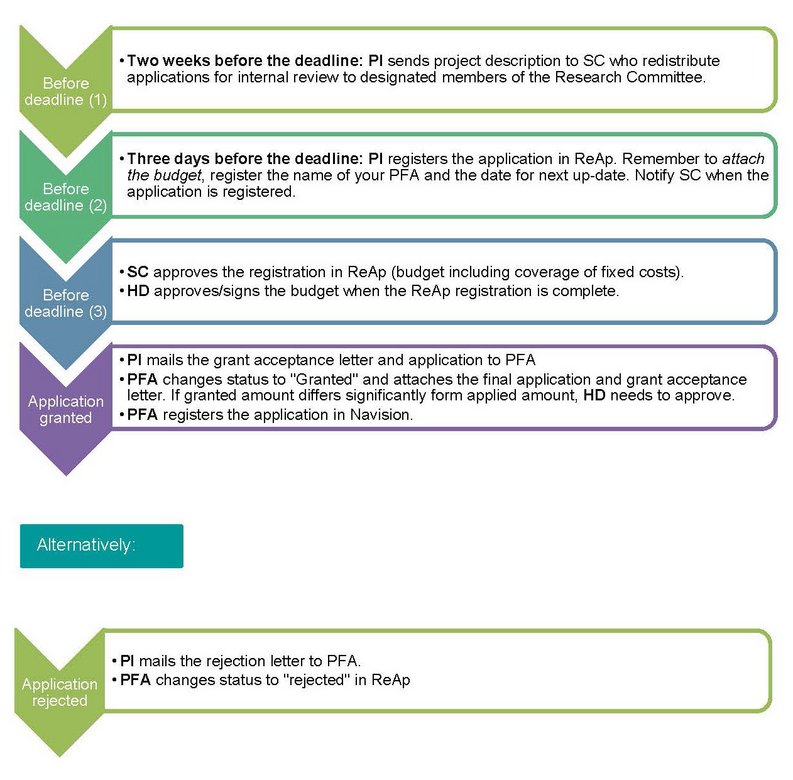 In order to make better department budgets, monitor the success rates at individual funding sources, as well as manage the coverage of fixed costs, applications above 50,000 DKK must be registered in the web-based system ReAp.
The Research Support Office has made a list of how to write a good application, including advice on how to make a project description, CV and budget.
AURAP is a report system that gives grant holders easy and quick access to an overview of the finances of their grants without having to go through their project administrator.
Log-in to aurap.au.dk.
The research councils and other foundations often require that you make a website in connection with a grant.