Here you can find:
How to get a RejsUD/CWT travel profile
Travel by air/train, car rental, hotel
Rates for business travel etc.
If you book a flight directly by the airlines, you must register this in the MBG-travels Outlook calendar (see below how).

If you book through CWT, it is not necessary to register your travel in the MBG-travels calendar as CWT has this information.

This is required t as it must be possible for the department to know where our employees are should it be necessary to get hold of one of the employees.

How to use the MBG-travels calendar

Open your Outlook calendar and book your trip as an activity as you normally do. Invite now "attendees", and in the To field your write MBG-travels, MBG, and when selected "send". Your trip is now registered in the MBG-travels calendar.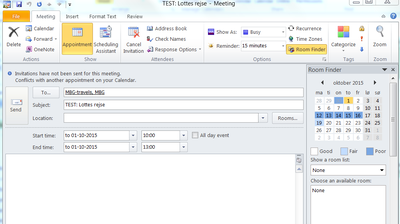 ---